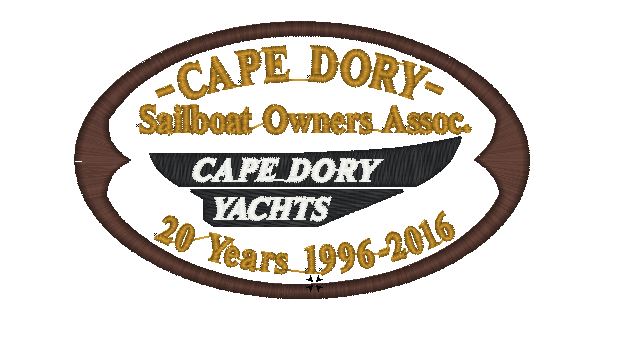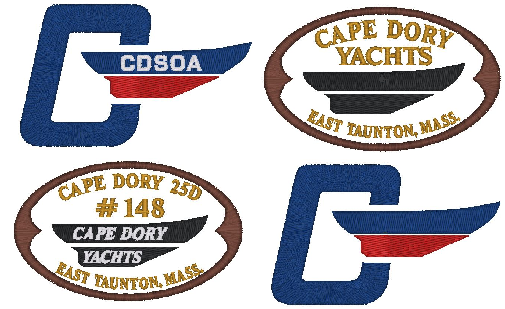 WELCOME ABOARD!
You have successfully navigated your way to the new CDSOA Chandlery. We have a great selection of logos available for embroidery on a wide variety of quality gear, including sailing and resort wear, totes, caps and other accessories at affordable prices. Outfit the whole crew and show the pride that has kept us going since the beginning.
PRICES IN THIS CATALOG INCLUDE THE EMBROIDERED CAPE DORY/CDSOA LOGO OF YOUR CHOICE. ,You can add your name or your boat's name in a generic font for $10.00. You will notice one of the available logo's resembles your original builders plate. Provide us with your CD model and hull number in the "imprint information" box and finish off your order by selecting the "INQUIRE ONLY" button and we will contact you to confirm the details. The cost for this customizing service is a one-time, set-up fee of $15. Your custom logo will stay on file for any future ordering. Shipping is included with purchase.
DECK OUT YOUR WHOLE CREW WITH YOUR BOAT'S NAME BEAUTIFULLY EMBROIDERED
JUST THE WAY IT LOOKS ON THE BOAT!
Drop us an email or call the shop to discuss crew packages and custom designs.
NOTE: the images you see on the garments in this catalog are computer generated and are there to give you a general idea of size and position.
Orders for the U.S. are generally shipped within seven business days and should arrive at your doorstep between 10-14 days after payment. Custom orders take a few days longer. Canadian customers should call BEFORE placing orders to arrange shipping. We ship USPS priority or USPS ground unless otherwise requested. You will be notified by email when we get your order and when it is shipped. If you haven't been notified in a timely manner- please contact Albatross Embroidery to inquire. We are located in Grosse Pointe Park Mi and if you would like to pick your order up personally contact us and we will adjust your bill accordingly.
PAYMENTS: We are set up for PayPal payments on line for all the major credit/debit cards,you don't need a PayPal account to use your credit card, just follow the promps on the invoice for "paying without a PayPal account" or you can give us a shout at the shop and we can run your credit card manually. You are certainly welcome to mail us a check if you prefer.
RETURNS: Albatross stands behind our products and workmanship- please contact us with any problems.
Again, thanks for drifting by. And thanks for showing off your Cape Dory pride.
Fair Winds