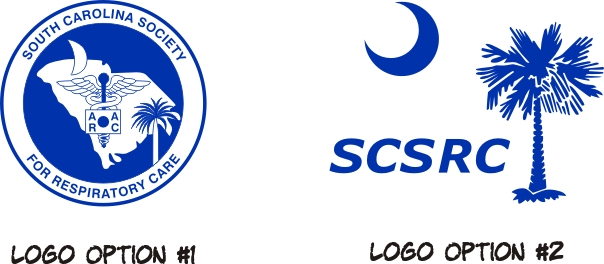 Towards the end of the order process, you will be instructed to select your preferred logo choice from above
Welcome to the South Carolina Society For Respiratory Care Custom Apparel Website
To start the order process, select an item from the left side and start to navigate the website. When you want to select an item, click "add to inquiries." You will be instructed to select your garment color, size, & QUANTITY. Then click update cart. Proceed through the website. When you are finished adding items, go to "submit inquiries - then view inquiries." Once you submit your order, we will review it and send you our credit card authorization form for pre-payment.
Every order is CUSTOM MADE TO ORDER. WE DO NOT TAKE RETURNS OR EXCHANGES. We take payment when the order is placed. If you do not feel comfortable emailing your credit card information, you are welcome to call us with your payment information.
Please contact Stephanie True with any questions you might have regarding the site or the products shown at stephanie@charlestoncottonexchange.com
Orders will be filled based on inventory availability. If you need your order by a specific date, please specify that when you submit your order. We will do everything we can to meet your deadline. Expedited shipping charges will apply to any rush order.
For each order placed, a 20% donation is given to SCSRC