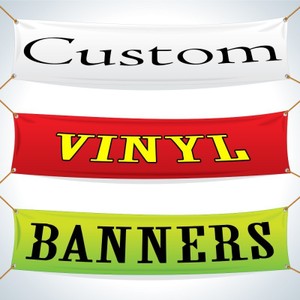 Custom Vinyl Banners
-Premium 13 oz. heavy duty vinyl material.
-Full color CMYK digital printing.
-Water and UV resistant.
-All of our custom vinyl banners include free grommets (every 2' - 3') and double stitched hem.
-Please specify if wind slits are needed.
-Banners can be made in 1 to 8 ft. high and 1to 25 ft. wide.

Sizes in Feet - Popular sizes shown below.

2x2 $11.22,
3x2 $16.83,
4x2 $22.44,
4x3 $33.66,
5x3 $42.08,
5x4 $56.10,
6x3 $50.49,
6x4 $67.32,
8x3 $67.32,
8x4 $89.76,
10x3 $84.15,
10x4 $112.20
: In Stock

For detailed PRICING, please select "Add to Cart" to view the ordering/pricing grid.