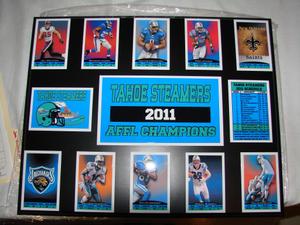 16"x20" Fantasy Plaque (Baseball, Football or Basketball)
A solid black wood plaque creates the ideal back drop to this great fantasy trophy. This completely customized plaque takes your entire fantasy team and adds color like never before. Give us your team up to 10 playes or 12 with smaller plates and we will add your logo, your record and your league name in the center. Logos must be submitted with at least 300dpi for the image to be useable. This plaque will be the talk of the town with all the other Fantasy Leagues!!! Use this plaque for either Baseball, Basketball or Football Fantasy leagues. The winners will love it.
Price includes trophy, engraving:
For detailed PRICING, please select "Add to Inquiries" to view the ordering/pricing grid.