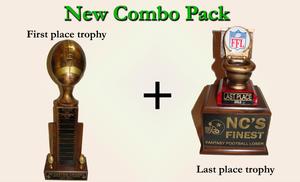 Tower Football Combo Package
#1 BEST DEAL!!!! Winner Trophies - This is an awesome 28" fantasy football trophy with a full size football on the top. There are 24 perpetual plates (12 on front and back) for the winners each year. The trophy comes with a 2żżż x 8.5żżż inch engraveable plate on the bottom as well as 24 individual plates sized 1" x 3.25" for the winners names each year. Loser Trophy - This trophy comes with a toilet bowl that has the FFL shield as the lid. There is a plate option on the toilet bowl as well. Different colored FFL logos are available as well as the option to put anything you want on the circle plate. The trophy comes with a 3"x4.75" inch engraveable front plate on the front and 18 individual plates sized 1" x 2.25" for the losers names each year.
Price includes trophy, engraving, shipping:
For detailed PRICING, please select "Add to Inquiries" to view the ordering/pricing grid.