WELCOME TO THE ST. MATTHEW SCHOOL GEAR PAGE
Show your St. Matthew pride and Thunder spirit anywhere you go! This year, we are offering embroidered hats, bags, and apparel that proudly display our school logo. Now, kids, parents & even grandparents can wear St. Matthew-branded items.
Some samples are on display in the Trophy Case by the school's main entrance.
Send your cash or check (payable to St. Matthew School) to the school office ASAP. It takes about 2-3 weeks for delivery.
Note: Dennis Uniform has dropped their fleece vests & jackets so you can now order those here as well.
For questions, please email jenny.moraleja@gmail.com or call/text (206) 790-5600.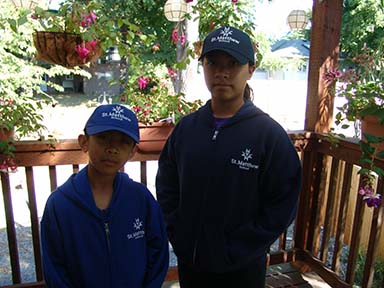 Zip-up Hoodies & Caps (in royal blue & navy blue). If you'd like the hoodies personalized, we will put the name on the right chest.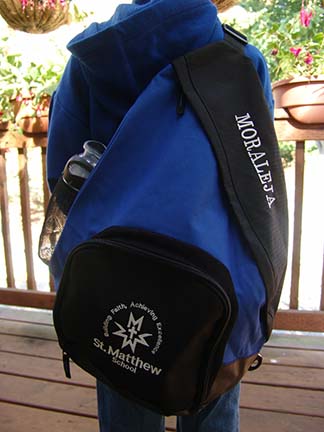 The sports bag (featured above) has a separate compartment for soccer balls. Your child's name can be embroidered on the upper right side.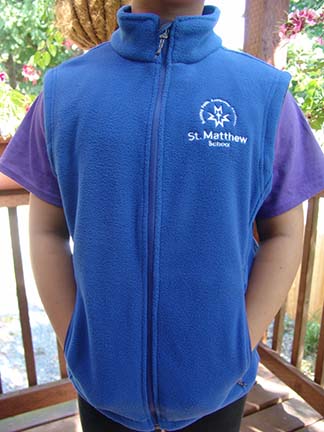 Fleece vests are available in youth & adult sizes. Youth sizes only come in navy blue. Adult sizes come in royal blue and navy blue.
These can be used as a uniform.
Fleece jackets are also available and can be used as uniforms.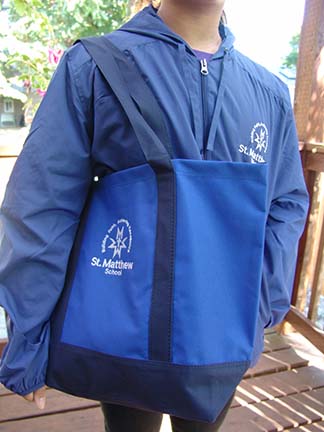 Tote bag and ladies' hooded jacket. The hooded jacket are sized small. XS & S can fit kids.
The men's jacket is not pictured here but it's the same color. The only difference is it has no hood.
For more detailed/technical information, please click the product links on the left.