Toll Free : 1-800-324-6005
Tel (714) 578-5080
E-Mail : info@logowear.com
Address : 3305 E. Miraloma Ave #181
Anaheim, CA 92806
Business Hours (M~F) 9:00 AM -4:30 PM (PST) * More Sample Works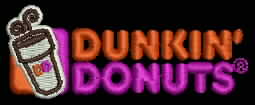 Custom Logo Embroidery Prices & Info
-Embroidery Set-up fee is only $45 (Up to 7,000 Stitches)
-The embroidery price include up to 6 colors, 7,000 stitches.
-Over stitches charge: $0.45 per 1000 additional stitches plus $10 additional set-up fee per thousand stitches or per color.
-All orders under $100 will have $25 small order handling charge (include Re-Order).
-There is a mechanical defect allowance of 2%. (min.1)
-Color change $10.00 ( minimum 1 dozen required per color change)
-Please send your logo to info@logowear.com
-Normal turn-around time is about 6-10 business days from the artwork approval.
- For additional info call 1-800-324-6005
Low Cost Embroidery price per placement
Qty Price
1-11 $7.95
12-35 $4.95
36-71 $3.95
72-143 $2.95
144-287 $2.70
288-499 $2.50
500-999 $2.25
1000- $1.95
-RUSH Services- Available upon request. Additional fee will be added.
* Other Infos
-It is the responsibility of the customer to comply with any trademark, copyright, etc. We do not verify and are not responsible for any misuse.
- Additional charges may apply if customer bring their own items.
- All prices and promotions are subject to change without prior notice.
company logo apparel employee uniforms company uniforms company uniform corporate uniforms business uniforms company apparel polo shirts with company logo employee clothing custom work uniforms work uniforms with logo embroidered work uniforms work uniform jackets company clothing custom polo shirts business polo shirts company shirt company polo shirts uniform polo shirts company logo polo shirts company shirts company shirts with logo corporate shirts corporate clothes company shirts with logo custom corporate shirts logo dress shirts logo shirts for work logo work shirts corporate shirts with logo company logo shirts business logo clothing business clothing with logo company uniform shirts uniform polo shirts restaurant uniform shirts work uniform shirts custom work shirt custom made work shirts work shirts with logo custom embroidered work shirts custom work jackets embroidered work jackets embroidered logo shirts shirts for business embroidered logo shirts business polo shirt shirts custom logo promotional shirts custom logo shirts business logo shirts logo apparel embroidered company shirts custom logo golf shirts custom logo jackets promotional jackets corporate jackets custom logo jackets bulk jackets company logo jackets create custom jackets custom embroidered fleece jackets company jackets with logo embroidery on jackets company fleece jackets corporate logo jackets custom corporate jackets company jacket promotional jackets company logo company jackets jackets for employees bulk fleece jackets staff jackets group jackets embroidered fleece jackets logowear com corporate apparel corporate shirts corporate clothing corporate shirt custom corporate shirts corporate logo shirts corporate embroidered custom polos custom company clothing business logo shirts company logo shirts business logo shirts business shirts with logo polo shirts with company logo logo shirts for business embroidered logo shirts embroidered work shirts company hats custom logo hats custom logo caps company caps company logo caps company baseball caps company hats with logo hats for business custom hats with logo hats with company logo